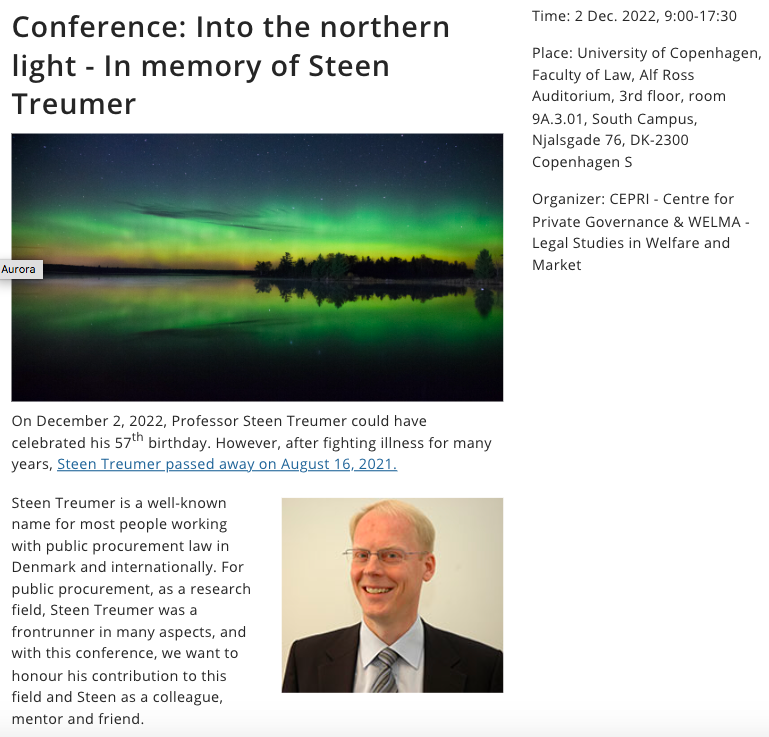 Conference 'Into the northern light – In memory of Steen Treumer' will be held on 2 December 2022 at the University of Copenhagen
On December 2, 2022, Professor Steen Treumer could have celebrated his 57th birthday. However, after fighting illness for many years, Steen Treumer passed away on August 16, 2021.
On this date, the Conference 'Into the northern light – In memory of Steen Treumer' will be held at the University of Copenhagen, organized by CEPRI – Centre for Private Governance & WELMA – Legal Studies in Welfare and Market.
Steen Treumer is a well-known name for most people working with public procurement law in Denmark and internationally and was a member of the EPLG group. For public procurement, as a research field, Steen Treumer was a frontrunner in many aspects. This conference is to honour his contribution to this field and Steen as a colleague, mentor and friend.
The Conference is divided into four thematic themes representing Steen Treumer's main research areas:
Session I: Public Procurement Principles
Session II: Procurement Procedures
Session III: Modifications of procurement procedures and contracts
Session IV: Enforcement of the EU procurement rules
As part of the Conference a book with the same name will be presented (Into the northern lights – In memory of Steen Treumer). The book is an anthology containing both some of Steen Treumer's work as well as contributions from scholars and practitioners.
EPLG members Carina Risvig Hamer, Martin Burgi, Albert Sanchez-Graells, Francois Licheré, Pedro Telles, Marta Andhov, Piotr Bogdanowicz, Roberto Caranta, Kirsi-Maria Halonen and Mario Comba will be among the speakers.
You can find more details and the full programme here.
Sign up using this form no later than 25 November 2022, 10:00 (CET).