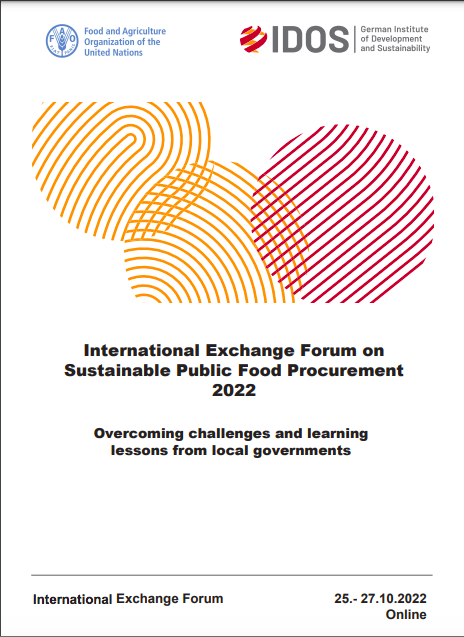 Prof. Roberto Caranta spoke at the International Exchange Forum on Sustainable Public Food Procurement 2022
On 25, 26 and 27 October, the Food and Agriculture Organization of the United Nations (FAO) and the German Institute of Development and Sustainability (IDOS) held online the 'International Exchange Forum on Sustainable Public Food Procurement 2022. Overcoming challenges and learning lessons from lessons from local governments.'
Central to their joint project on implementing sustainable public food procurement practices to catalyse a shift towards sustainable urban food systems, the forum brought together experts from Africa, Europe, and Latin America for cross-border exchange.
With technical and regional discussion sessions, the event facilitated exchanges on key topics in relation to Sustainable Public Food Procurement, such as the role and responsibility of local governments, the link of SPFP to the broader debate on public procurement, entry points for transforming current agri-food systems to be more sustainable, the inclusion of vulnerable groups, the importance of partnerships and networks and regulatory challenges.
Prof. Roberto Caranta, EPLG member, spoke during session 1 on "Linking PFP to the broader Sustainable Public Procurement (SPP) Debate". He traced the trajectory of the inclusion of increasingly broad sustainability concerns among the objectives of public procurement and presented a number of ongoing legislative initiatives, adopted under the EU Green Deal, which include sustainable public procurement elements.
The knowledge and experiences exchanged during the International Exchange Forum will be included in a publication of selected case studies, highlighting different cases of municipalities that implement sustainable public food procurement in the framework of urban food governance mechanisms, as well as key challenges and best practices.