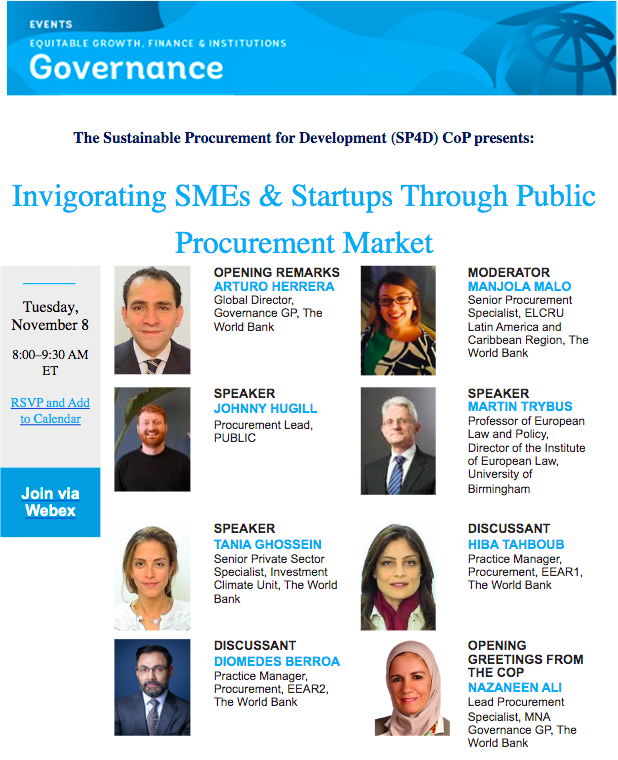 Prof. Martin Trybus will speak at the World Bank event on Invigorating SMEs and Startups through Public Procurement Market
On 8 November 2022, Prof. and EPLG member Martin Trybus, will speak in the webinar 'Invigorating SMEs and startups through public procurement market', organised by the World Bank's Sustainable Procurement for Development (SP4D) CoP.
Among the speakers will be Arturo Herrera, Global Director, Governance GP, The World Bank; Manjola Malo, Senior Procurement Specialist, ELCRU Latin America and Caribbean Region, The World Bank; Tania Ghossein, Senior Private Sector Specialist, Investment Climate Unit, The World Bank and Nazaneen Ali, Lead Procurement Specialist, MNA Governance GP, The World Bank. 
The event will mainly discuss the barriers to SMEs' access to the Public Procurement Market, how to increase the number of SMEs winning contracts, what different countries/organizations are doing to empower SMEs through Public Procurement and what lessons have been learned, as well as how to promote startups and innovation through SMEs.
To view upcoming Governance events visit the Governance Global Practice Website.