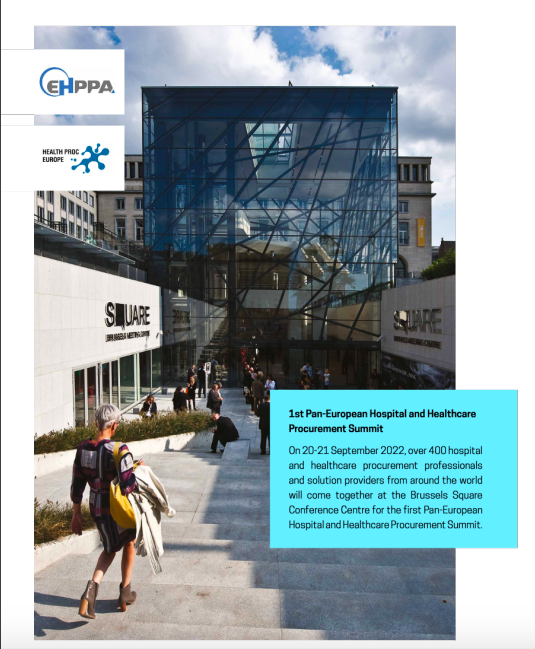 EPLG Members Mario Comba and Gabriella Racca spoke at the 1st Pan European Hospital & Healthcare Procurement Summit
The 1st Pan European Hospital & Healthcare Procurement Summit, jointly hosted by EHPPA – European Health Public Procurement Alliance – and Health Proc Europe Association, was held on 20-21 September 2022 at the Brussels Square Conference Centre.
Over 400 hospital and healthcare procurement professionals and solution providers from around the world gathered to hear and discuss the latest developments and innovations related to procurement in the healthcare sector, as well as to share best practices and exchange ideas about transparency and the future challenges for the industry, including sustainability, supply chain issues and digitalization.
EPLG member Mario Comba moderated Track 1 on 'Public Procurement & Legal Aspects', with three workshops covering 'How to Introduce Sustainable Aspects Into a Tender?'; 'Joint Cross Border Procurement & Recommendations for Tender Law 2.0' and 'Legal Aspects & Solution for Fulfilment of Contracts in an Environment of Rising Prices and High Volatility'.
During Track 8 on 'Digital Procurement', EPLG member Gabriella M. Racca gave a presentation in the workshop on 'The Challenges of Digitalization in Healthcare Procurement in the Post-Covid-19 Era".
Prof. Mario Comba was also member of the Scientific Committee of the European Healthcare Procurement Awards, held as part of the Summit. The initiative aimed at recognising outstanding professional achievement in three categories: Sustainability, Innovation & Procurement Excellence and Digitalisation & Transparency.