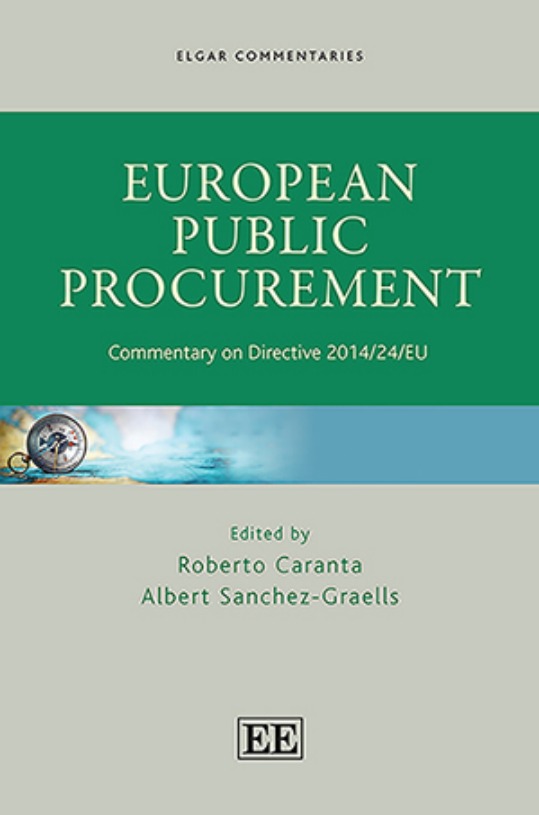 European Public Procurement. Commentary on Directive 2014/24/EU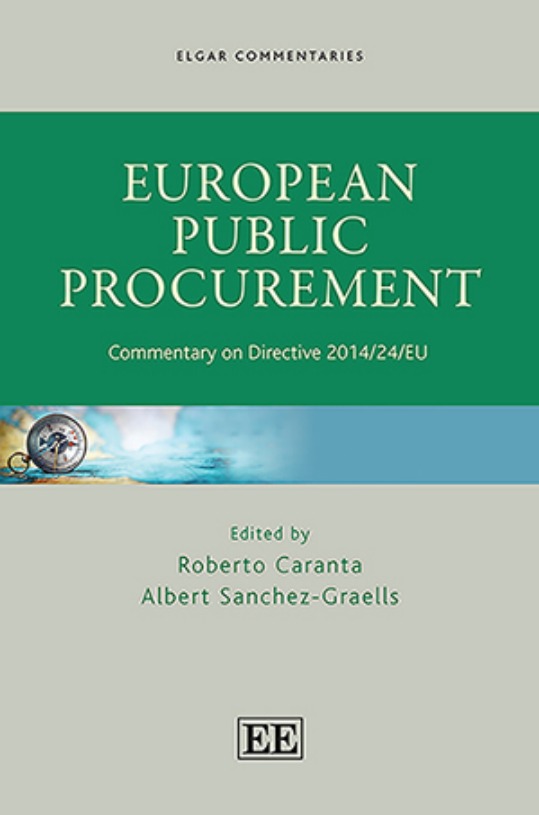 ISBN: 978-1-78990-067-5 
Publication date: 2021 
Price: £ 275 
Extent: 1040 pp 
Publisher: Edward Elgar Publishing 
Series: Elgar Commentaries series 
Edited by Roberto Caranta and Albert Sanchez-Graells
The book "European Public Procurement. Commentary on Directive 2014/24/EU", edited by EPLG Members Roberto Caranta, Full Professor of Administrative Law, Law Department, University of Turin, Italy and Albert Sanchez-Graells, Professor of Economic Law, School of Law, University of Bristol, UK, was published in Elgar Commentaries series. The contributors, including several EPLG members, are: Marta Andhov, Ioan Baciu, Benedetta Biancardi, Piotr Bogdanowicz, Pedro Cerqueira Gomes, Christian Clausen, Mario Comba, Dacian Dragos, Petra Ferk, Pascal Friton, Kirsi-Maria Halonen, Wojciech Hartung, Ignacio Herrera, Baudouin Heuninckx, Willem A. Janssen, Christoph Krönke, Katarzyna Kuźma, Annamaria La Chimia, Pawel Nowicki, Carina Risvig Hamer, Sarah Schoenmaekers, Abby Semple, Mari-Ann Simovart, Grith Skovgaard Ølykke, Johannes Stalzer, Pedro Telles, Bojana Todorović, Marko Turudić, Patricia Valcárcel Fernández, Steven Van Garsse, Roxana Vornicu, Johan Wolswinkel, Janis Zöll.
This detailed Commentary provides an authoritative interpretation of each provision in the main EU Directive on public procurement – Directive 2014/24/EU, and is rich in its critical analysis of the provisions of the 2014 Directive and the case-law. The Commentary also highlights the application problems and interpretative issues being raised in EU Member States, which in due time will make their way up to the CJEU or even require further legislative interventions.
The Commentary – updated to include the most significant CJEU case law as of end-2020 – was written by a diverse pool of specialists in each of the aspects of the Directive upon which they comment, with the Commentary underpinned by their collective knowledge of public procurement law in the old 28 EU Member States. The analysis is informed by the practical issues arising across the EU Member States, as well as in the UK.
Providing a practice-oriented analysis that allows for a problem solving approach, European Public Procurement will be particularly relevant to practising lawyers including within the civil services in all EU jurisdictions and the UK. The depth of analysis offered in the Commentary will also be of great benefit to academics and postgraduate students with an interest in public procurement and, more generally, public law, administrative law and public administration.