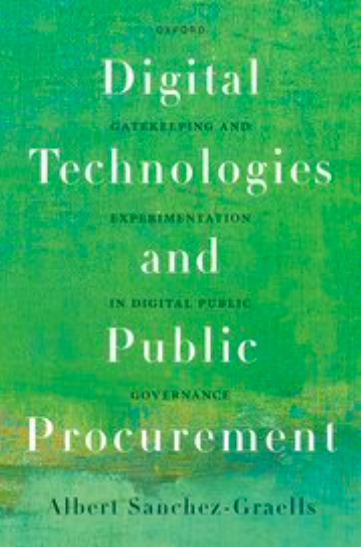 Digital Technologies and Public Procurement. Gatekeeping and Experimentation in Digital Public Governance.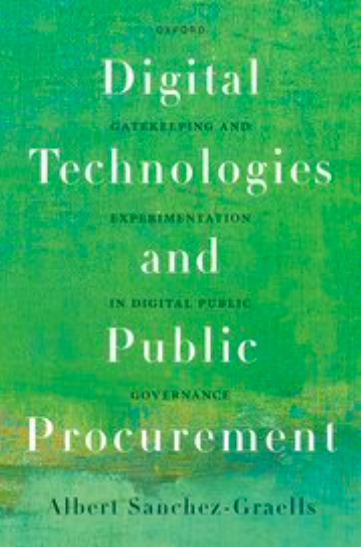 ISBN: 9780198866770 
Publication date: 28 March 2024 
Price: 90 £ 
Extent: 336 pp 
Publisher: Oxford University Press 
Series: Academic 
Albert Sanchez-Graells is a Professor of Economic Law and Co-Director of the Centre for Global Law and Innovation at the University of Bristol Law School. He specialises in European Union economic law and competition law, public procurement, and digital regulation. He has previously held academic positions at the universities of Leicester and Hull in the UK, and ICADE in Spain. He has been a visiting professor at the universities of Turin and Carlos III in Madrid. Albert is a former Member of the European Commission Stakeholder Expert Group on Public Procurement and regularly advises other international organisations. He authors howtocrackanut.com.
The digital transformation of the public sector has accelerated. States are experimenting with technology, seeking more streamlined and efficient digital government and public services. However, there are significant concerns about the risks and harms to individual and collective rights under new modes of digital public governance. Several jurisdictions are attempting to regulate digital technologies, especially artificial intelligence, however regulatory effort primarily concentrates on technology use by companies, not by governments. The regulatory gap underpinning public sector digitalisation is growing.
As it controls the acquisition of digital technologies, public procurement has emerged as a 'regulatory fix' to govern public sector digitalisation. It seeks to ensure through its contracts that public sector digitalisation is trustworthy, ethical, responsible, transparent, fair, and (cyber) safe.
However, in Digital Technologies and Public Procurement: Gatekeeping and Experimentation in Digital Public Governance, Albert Sanchez-Graells argues that procurement cannot perform this gatekeeping role effectively. Through a detailed case study of procurement digitalisation as a site of unregulated technological experimentation, he demonstrates that relying on 'regulation by contract' creates a false sense of security in governing the transition towards digital public governance. This leaves the public sector exposed to the 'policy irresistibility' that surrounds hyped digital technologies.
Bringing together insights from political economy, public policy, science, technology, and legal scholarship, this thought-provoking book proposes an alternative regulatory approach and contributes to broader debates of digital constitutionalism and digital technology regulation.