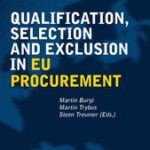 This seventh volume of the European Procurement Law Series contains an in-depth analysis of the qualification phase-exclusion, qualification, selection, and shortlisting. The topic is of crucial importance in EU tender procedures and has been considered in numerous disputes in the EU. This volume supplements the fifth volume about the award phase. It considers the implications of the new public procurement directive, with focus on the qualification phase, and includes an analysis of the implementation of the new directive in a range of Member States. The publication follows an original comparative approach covering diversified national approaches to EU public procurement law.
Ed: Martin Burgi, Martin Trybus, Steen Treumer
Qualification, Selection and Exclusion in EU Procurement
Please find here a review of this book by Dr. Pascal Friton.