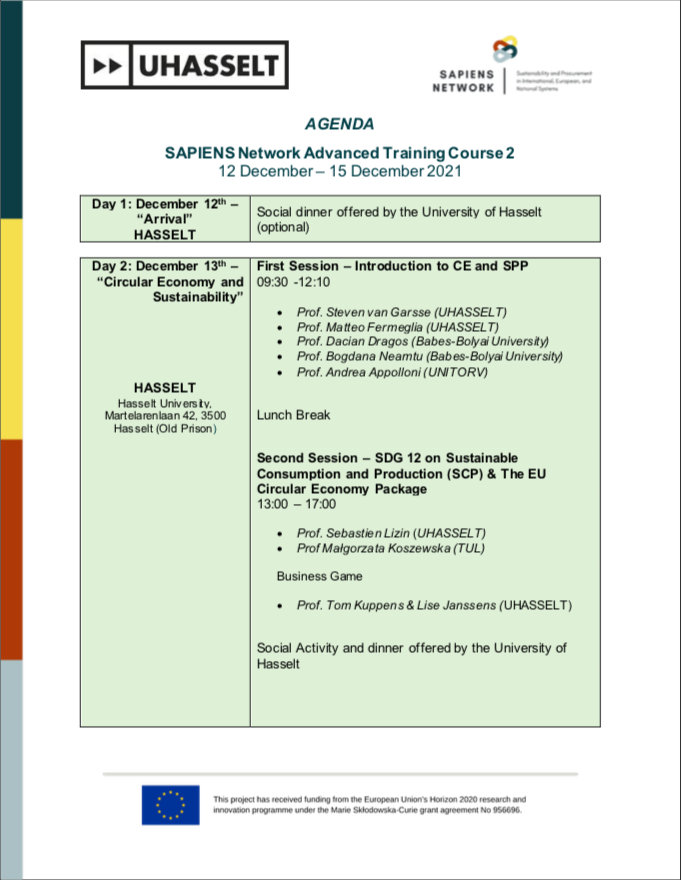 SAPIENS NETWORK'S SECOND ADVANCED TRAINING COURSE (ATC 2)
We are inviting you to participate in the second SAPIENS Network's Advanced Training Course (ATC 2). In this ATC, SAPIENS is covering the notion of the circular economy (CE) and its effect on SPP with a focus on SDG 12 – Sustainable Consumption and Production (SCP), including a hands-on workshop on enhancing GPP through CE and a Round table with representatives of European Institutions.
This course allow the Early Stage Researchers to develop a deep insight to create a foundation for their future careers ranging from academia to policy and law-making and to preparation and delivery of SPP solutions and tools capable of contributing to the achievement of the SDGs.
If you are not affiliated with SAPIENS Network as an early stage researcher, lead researcher, or are from a beneficiary or partner organization, you can still attend, but seats are limited!
Where?
University of Hasselt – Martelarenlaan 42, 3500 Hasselt (Old Prison)
Atelier Vlaams Bouwmeester, Ravensteingalerij 54-59, 1000 Brussels
When?
12th-15th December 2021
What?
12th December: Social dinner offered by the University of Hasselt (optional)
13th December: Circular Economy and Sustainability
14th December: Circular Economy and the Public Procurement Cycle; Soft Skills for ESRs
15th December: Spotlight on Policy
For who?
The Advanced Training Courses will be relevant for early-stage researchers such as PhDs and postdocs, practitioners interested in procurement and sustainability such as representatives of contracting authorities, central purchasing bodies, procurement agencies, governmental procurement departments, other procurement professionals.
Registration
Please register here.
For external participants – your application will be considered on a rolling basis, and we will inform you in due time whether we will be able to welcome you online at this SAPIENS Network event.
Those who register before November 26 will be given special consideration.