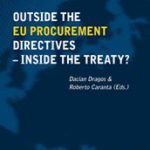 European Procurement Law Series vol. 4
This book provides the reader with information on how a number of relevant jurisdictions in the EU have responded to the call by the Court of Justice, highlighting both best practices and areas of uncertainties.
The book helps understanding both the requirements imposed by the EU case law and the developing trends at national level which are to influence the next generation of procurement directives.
Dacian C. Dragos (red.) & Roberto Caranta (red.)