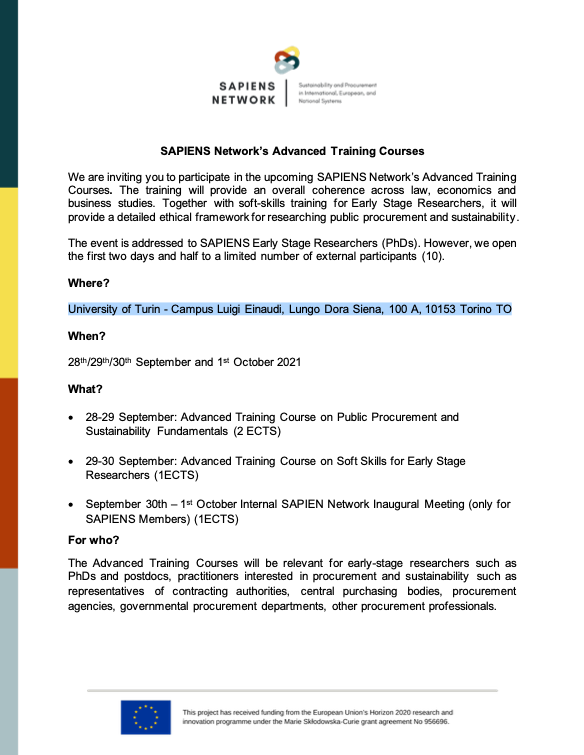 SAPIENS NETWORK'S FIRST ADVANCED TRAINING COURSE (ATC 1) 🗓
We are inviting you to participate in the upcoming SAPIENS Network's First Advanced Training Course (ATC 1). The training will provide an overall coherence across law, economics and business studies. Together with soft-skills training for Early Stage Researchers, it will provide a detailed ethical framework for researching public procurement and sustainability.
The event is addressed to SAPIENS Early Stage Researchers (PhDs). However, we open the first two days and half to a limited number of external participants (10).
Where?
University of Turin – Campus Luigi Einaudi, Lungo Dora Siena, 100 A, 10153 Torino TO
When?
28th/29th/30th September and 1st October 2021
What?
28-29 September: Advanced Training Course on Public Procurement and Sustainability Fundamentals (2 ECTS)
29-30 September: Advanced Training Course on Soft Skills for Early Stage Researchers (1ECTS)
September 30th – 1st October Internal SAPIEN Network Inaugural Meeting (only for SAPIENS Members) (1ECTS)
For who?
The Advanced Training Courses will be relevant for early-stage researchers such as PhDs and postdocs, practitioners interested in procurement and sustainability such as representatives of contracting authorities, central purchasing bodies, procurement agencies, governmental procurement departments, other procurement professionals.
Registration
Deadline 1st September 2021
Please register here.
For external participants: your application will be considered on a rolling basis, and we will inform you in due time whether we will be able to welcome you at the SAPIENS Network event.