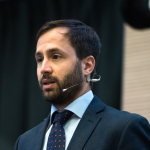 Dr Albert Sanchez-Graells is a specialist in European economic law, with a main focus on competition law and public procurement. He is also interested in general issues of sector regulation and, more broadly, in the rules supporting the development and expansion of the European Union's internal market. He takes a law and economics approach to his research and is particularly keen on the analysis of the systems of incentives and enforcement mechanisms that law creates or facilitates.
His research interests are in law and economics, especially regarding competition and public procurement law, on which he completed his PhD (Eur) and published Public Procurement and the EU Competition Rules, 2nd edn (Bloomsbury-Hart, 2015). He has recently coauthored Shaping EU Public Procurement Law: A Critical Analysis of the CJEU Case Law 2015–2017 (Wolters-Kluwer, 2018), edited Smart Public Procurement and Labour Standards. Pushing the Discussion after RegioPost (Hart, 2018, forthcoming), and also coedited Reformation or Deformation of the Public Procurement Rules (Edward Elgar, 2016). Most of Albert's working papers are available at http://ssrn.com/author=542893 and his analysis of current legal developments is published in his blog http://www.howtocrackanut.com.
Albert is currently a Reader in Economic Law at the University of Bristol Law School, a Member of the European Commission Stakeholder Expert Group on Public Procurement (2015-18) and a Member of the Procurement Lawyers Association Brexit Working Group. He has previously held academic positions at the Law School of the University of Leicester, at the Law School of the University of Hull, and at the Law Faculty of Comillas Pontifical University (Madrid, Spain). Prior to academia, he was a practising lawyer advising multinational corporations on competition and public procurement matters.